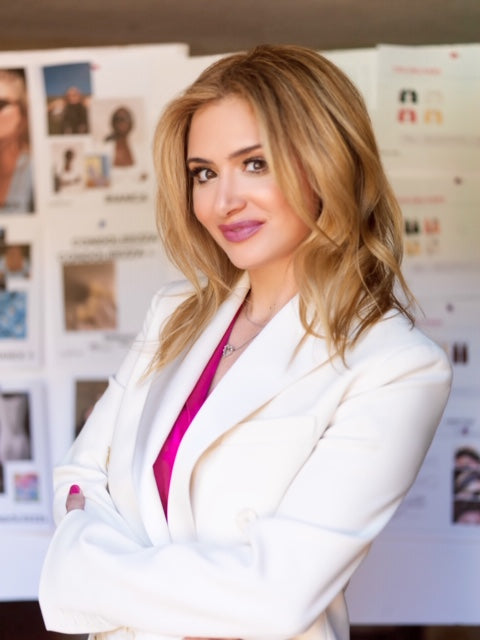 CONVERSATIONS WITH CELINE X ALMOST THERE
Written by Hannah Apr, 29, 2020
At the start of the year 2020, nobody could've imagined the impact of Covid-19. What was that like for you starting your new brand ALMOST THERE?
There was so much momentum leading up to launching ALMOST THERE in March and April, and at the same time, the fashion ecosystem was on the verge of shutting down. It caused me to make difficult business decisions to be able to keep on going and pursue our goals. I sympathize with small businesses especially those without budget or any outside funding – it's not easy and I wish people spoke more about female founders who start from the ground up and how difficult it is to raise capital. At the same time, I feel confident in the brand and it makes sense now more now than ever to launch.
Can you speak about the brand's message and why it makes sense now more than ever to launch?
It's really important to me to create a line that can look beautiful on all body types. I've never been able to have the authority to truly create a line that's for women of all sizes and that fell into a plus demographic as well. I hope that my interpretation of what looks great on women will work for all body types whether you're a size 16 or a 2 or even size 22! I believe all women should feel beautiful no matter what size you are and fashion has always promoted an unhealthy image on the body. I can personally speak to that about accepting your body no matter what size you are and it's tough, and it's been hard. I want this brand to be about celebrating women exactly where they are and the size they are today. We are always a work in progress, but you should always know that if you put on our clothes, no matter what size you are, that you will feel good and look good too. That also speaks to our brand message and name, ALMOST THERE is about how women are exactly where they are meant to be. We're all on a unique and beautiful journey.
How do you see fashion in a post COVID world and how does that align with AT?
Great question! Our collection naturally lends itself nicely to how I think people are going to shop post-COVID. I think that the majority of our collection is really easy to wear and uncomplicated. It's not a lot of bells and whistles and above all, it's comfortable. That's always been something really important to me. I dress for comfort first and fashion second, which is probably the opposite from when I was younger, but I think that in a post COVID world people are just going to be concerned with being comfortable and also feeling secure in their own bodies. Especially since we've all just been inside for practically two months now. Our brand is direct to consumer and entirely online, and I think that business decision has only been validated and made to be a more common experience for shopping thanks to the virus.
Is there anything the brand had to pivot to work during COVID that you see continuing in normal business circumstances again?
For myself, as a new founder of a business, I didn't invest in an office space or a temporary workspace yet. For my team, we've been really lucky to rent conference rooms at the Wing or Spring Place or take meetings at SoHo house which have always been convenient. It's been easier for us because we already worked like this before COVID. We were able to adjust to no longer being able to take meetings outside of our normal potential workplaces because we are normally virtual and electronic anyways. The fittings and things like fabric sourcing and strike-offs with dye houses have had to take a step back because the production our factories were doing with apparel halted due to demand for protective gear, medical masks, and garments. It's totally understandable and I'm very supportive of that.
All about perspective: Asking with the utmost sensitivity, could COVID-19 be disguised as an opportunity for ALMOST THERE?
For sure. I think that Covid-19 just reiterates the importance of sustainable fashion and I think that most brands need to change how they operate. To turn a blind eye that fashion is the second most polluting industry on earth is not doing your part as a human being. I would feel guilty not producing clothing that didn't have a better message. The world is experiencing and in some cases being forced to slow down. That is powerful and I think it sends a message across all industries, especially fashion. That's another reason why I believe in our brand and we believe in the importance of things like minimizing waste, local production, and eco fabrics.
The fashion industry is global. In your opinion, what can the fashion industry learn from the global pandemic we are experiencing?
I think they can understand that they need to slow down, and it's amazing to me that you have designers who are taking a stand in saying that the fashion calendars are crazy and too much. Having fashion week earlier this year was probably a contributor in creating an even bigger outbreak of coronavirus, I mean you had buyers traveling all over the world from China. It should be like a wake-up call for fashion brands. I believe we will see new innovations in showcasing brands and collections in the very near future. The real issue is the excess in this industry, and it needs to be reassessed. The era of overconsumption should be a thing of the past.