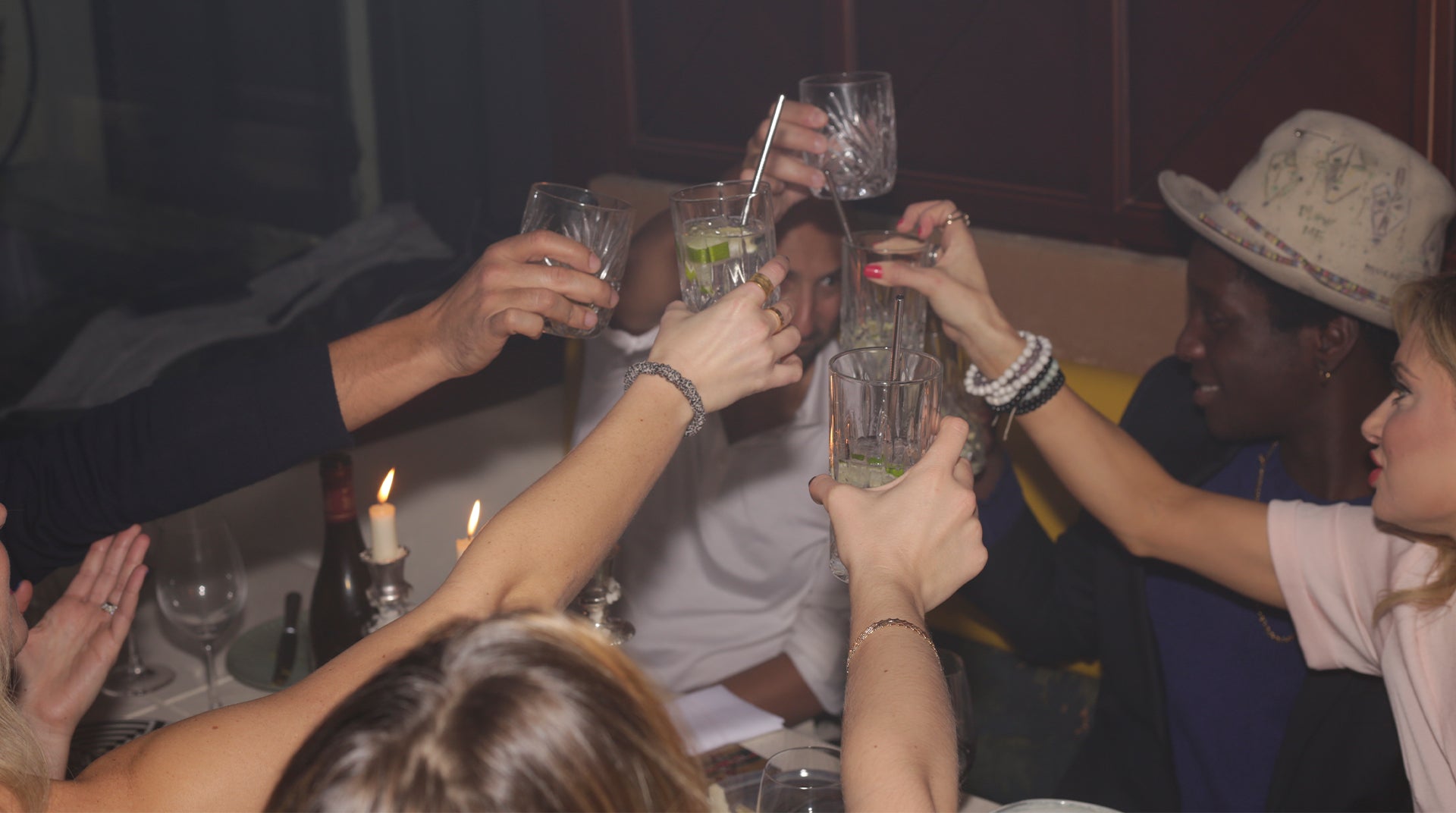 ALMOST THERE X LAUNCH PARTY WITH DON RAPH
Written by Hannah Apr, 29, 2020
Back in February, I traveled to Paris to celebrate my birthday and the launch of ALMOST THERE. This trip was so special to me and especially significant for a few reasons. While Paris fashion week was going on, my closest friends flew in from around the world to celebrate and support me with the brand I created, in the city where I went to college. I'm also half French so the whole thing felt like a celebration of who I am and a perfect beginning for the brand.
On the eve of my birthday, we went to this great restaurant in Paris called Sinner. They serve amazing food and I love the atmosphere; it has a very cool vibe. That's where we officially toasted to the birth of ALMOST THERE! I was surrounded by love and support from my friends who I've known 10+ years and that really touched me. We had such an amazing time!
I wore two of my favorite pieces from the summer collection that night. First, I wore the Betty dress in Blush, styled slightly unbuttoned at the slit – I just love this dress because it is so effortless and chic. And then later, I changed into the Paris dress in Noir for a très sexy look. 
Shop Celine's Favorite Pieces Here
A few years ago, I met Don Raph at a party in Los Feliz, Silverlake area for someone I worked with. We got along very well (he's also French) and we stayed in touch because I wanted to work with him one day – his talent is out of this world! For the launch of ALMOST THERE, and as a limited edition, we collaborated with him to make custom artwork for our hemp and cotton blend tote bags.
Shop Don Raph x ALMOST THERE Tote Bag Here
The very next morning we had a photoshoot with Erika. She's beautiful and just like a French Lizzo! I barely slept that night because of the dinner party the night before but also because I was so nervous! We found a cockroach in the bathroom while getting ready and I was so freaked out couldn't take a shower. It was freezing cold that day and we walked around the monuments for the shoot wearing the Marilyn dress in black and blush.
Learn More About And Follow Erika Here
Being the founder and the model at the same time was challenging because I was constantly concerned about how Erika looked while feeling a little camera shy myself. It isn't something I'm used to, but we had a great day and took some amazing shots! Like a dream come true, and all happening on my actual birthday. However, it was kind of right when coronavirus was starting to take hold and it felt sort of frivolous to think about fashion when people were very concerned about health. In the end, everyone returned home safely and I'm forever grateful for my friends, my team, and the memories!
Shop ALMOST THERE Launch Collection Here