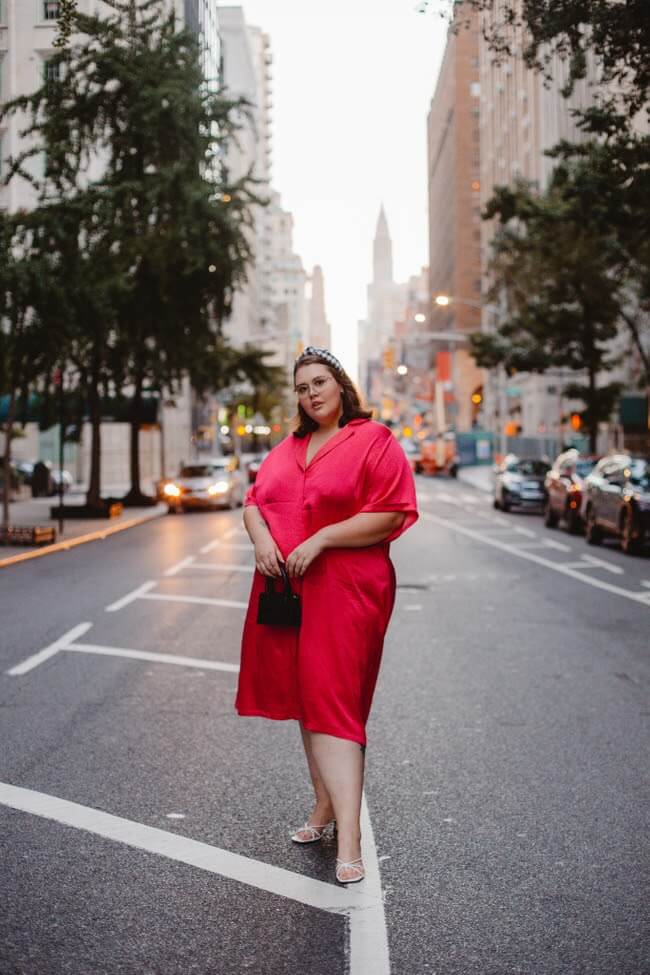 LIVE SHOPPING EVENT WITH @ABBYBIBLE
Written by Celine Sep, 16, 2020
Abby is a customer of ALMOST THERE! She loves the brand and what we stand for, so she decided to hop on an Instagram Live with us to talk all about it! Abby purchased the Betty and loves wearing it! Even better, she is planning on using the Betty as a transition piece for this upcoming fall! She spoke about planning on wearing it over a pair of jeans and a tank top. 
The Betty is made with recycled poly yarn and a crepe satin fabric. Loves that it isn't just deadstock and is recycled material. Abby says it feels very Lush on her. When they talked about the feeling of the material on her skin she described it as feeling like butter! Oh so soft and comfortable!
The average price of a dress from ALMOST THERE is $200 due to the process and materials that are used to create a sustainable and size-inclusive piece. Also, all of our pieces are made in Downtown Los Angeles, California. We are focused on making our company participate in a circular economy to help the environment while being chic and all-inclusive. We go the extra mile whenever we have the chance to make sure we are going the extra mile for our customers!

We love hearing about our packaging! Did you know that our dresses come in sustainable packaging, but also with a thank you card that has seeds embedded in the card that the customer can plant the card and little sprouts will come up in no time?

Why did you (Celine) want to make sure you included plus sizes from the start: "It was a no brainer! I always wanted to create products. In the past, I worked for not so ethical companies. It was really important for me to create a brand for all women, and for all different sizes. That way all people feel beautiful in my clothing. It is just really important to me to make sure that everyone was comfortable and pretty in my clothing."

Abby loves being able to match with her thinner friends and makes her feel good to be able to say, "Oh my goodness we are matching!" She never felt that she could do that when she was younger and enjoys that feeling!

Name ALMOST THERE: moved to LA and into my parents house. Hiking and my buddy said you are talking about this sustainable brand and a circular economy and i said ya know, we are ALMOST THERE. Just kind of talking about how there is never a finish line, but you are always improving. 

I launched my company as a result of a happy accident to pursue a dream. I was not enjoying working for a corporate company and wanted to make a difference in the Fashion industry.

It's weird to work in the Fashion industry. I am only 22, but the transition from school to the real world industry is different and interesting. Everyone knew me in school and what I stood for; now we move into the corporate fashion world where you have to censor your passions that way you can make a change in the fashion industry.

Abby majored in Fashion merchandising and marketing at SCAD and Minored in Fashion design.

Abby's personal style icons: Nicolette Mason, Kelly Maybe, Like the carefree with structure and feminine. As a big woman, I struggle to feel feminine because I have been told my life that to be ultra fem you have to be petite and fem.

Abby's personal style icons are always very carefree with structure, but feminine. Her entire life Abby felt to be feminine because she felt to be ultra-feminine you had to be petite and thin. Abby proves this wrong with her Instagram and excited personality that is shown through her ultra-fem personality! 

How did I gain confidence? Instagram is toxic, but I really didn't find anyone confident in my size until I saw Ted Holiday. She was the first woman I ever saw that was my size, and confident. Finding that community of plus size on social media helped me a lot because in my small Floridian town I was ashamed daily and one day I just felt it the confidence surging. I guess I was more of a "fake it till ya make it" personality.

I lived in LA for a little bit; when I was interning for Nicolette and Gabby Ray. I wasn't really vibing with LA. Traffic is wild! LA is an amazing place but we are all struggling. The fires are putting a major toll on Los Angeles as well as California.

Thank you, Abby! We appreciate the love and support from the voluptuous community even though I am not technically apart of the community I appreciate the love from them.
ALMOST THERE hopes that everyone is staying safe out there!
We appreciate our essential workers and our firefighters!