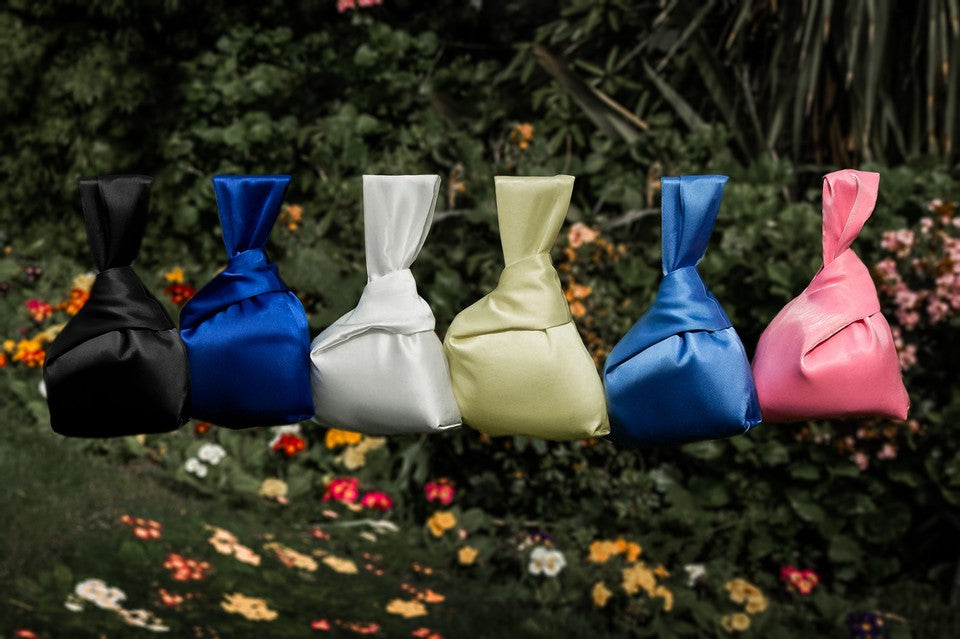 The Knot Bag: Sexy, Elegant, Chic
Written by Celine May, 28, 2021
Cheersing you with my glass of rosé as Summer has begun and the era of COVID is becoming distant, fading into the background as we begin to regain normalcy, and that means going to the BEACH and having BRUNCH… two of my three favourite B words… the other is used in times of peril, like when I realise I am without a Summer handbag.
But, alas, I have attained enlightenment for I now know that it is the Japanese inspired Knot Bag I must have! Light-weight, easy-to-grab, stylish-to-wear. All I need to feel sexy, put-together and secure.
Let's take a look at our favourite available Knot Bags:
Ganni: The Danish brand, created in 1999, has been around for almost 20 years, delivering timeless accessories and clothing. Ganni has quickly become one of the most recognizable brands in the last five years. Originating in Denmark, the brand's influence goes far beyond Europe - Ganni, bought and sold in almost every continent, offers high-end pieces for lower-end prices. Perfect for anyone wanting to be stylish on a budget this Summer! Ganni's Knot Bag is priced just under $200. 
Almost There: Affordable. Chic. Lightweight. Sustainably crafted from deadstock crepe satin material, found from Ragfinders based in LA, Almost There's handcrafted Knot Bag offers quality and longevity, as well as the comforting notion that YOU are abiding by mother nature's wish to protect our planet. Available to purchase in six vibrant colours, this bag gives you a satiny finish, feeling smooth and comfortable on the wrist. Priced at $68, this Knot Bag is the most affordable on the market. Celine Kabaker crafted The LOVESTRUCK collection with the intention to be dressed up and down; she wants you to play with it, mix and match it with every outfit. Its elegant simplicity pulls together any ensemble and is large enough to hold your most essential items, so you can rest assured that you are investing in an affordable quality piece which will last far beyond Summer. Any of AT's six available colorways will be the seamless addition to your wardrobe. They ship Worldwide, and even plant a tree with every purchase through the organization One Tree Planted.
Nanushka: A Hungarian brand created in 2006, was founded on principles that revolve around sustainability, and like Almost There, they ensure ethical production and distribution. Nanushka's Knot Bag comes in a few classic colors - black, grey, brown and sand. Its unique silhouette is pleasing to the eye and elevates any outfit - sweats and a tee, or a dress and heels. Priced at about $265, Nanushka offers a mid-luxe price point.
Bottega: An Italian brand created in 1966 crafted the most classic Knot Bag, designed and released in 2001, it has become a staple of fashionistas' closets everywhere. The Bottega Knot Bag comes in 3 different sizes- small, medium and large, and endless colors, depending on the season. Priced at about $900-1500, it's carefully crafted from fine leather, making it a timeless accessory that will last, and its cost can attest to that!
Altaire: Unlike any bag we've seen this season, the Altaire Knot Bag is uniquely crafted with an embossed cowhide base, a lambskin pouch, and a knotted handle. Inspired by art and sculpture, Altaire's Knot Bag has a distinctive triangular shape. Priced at about $500, it's a bit of an investment, but a great mini bag for Summer. 

XOXO
ALMOST THERE