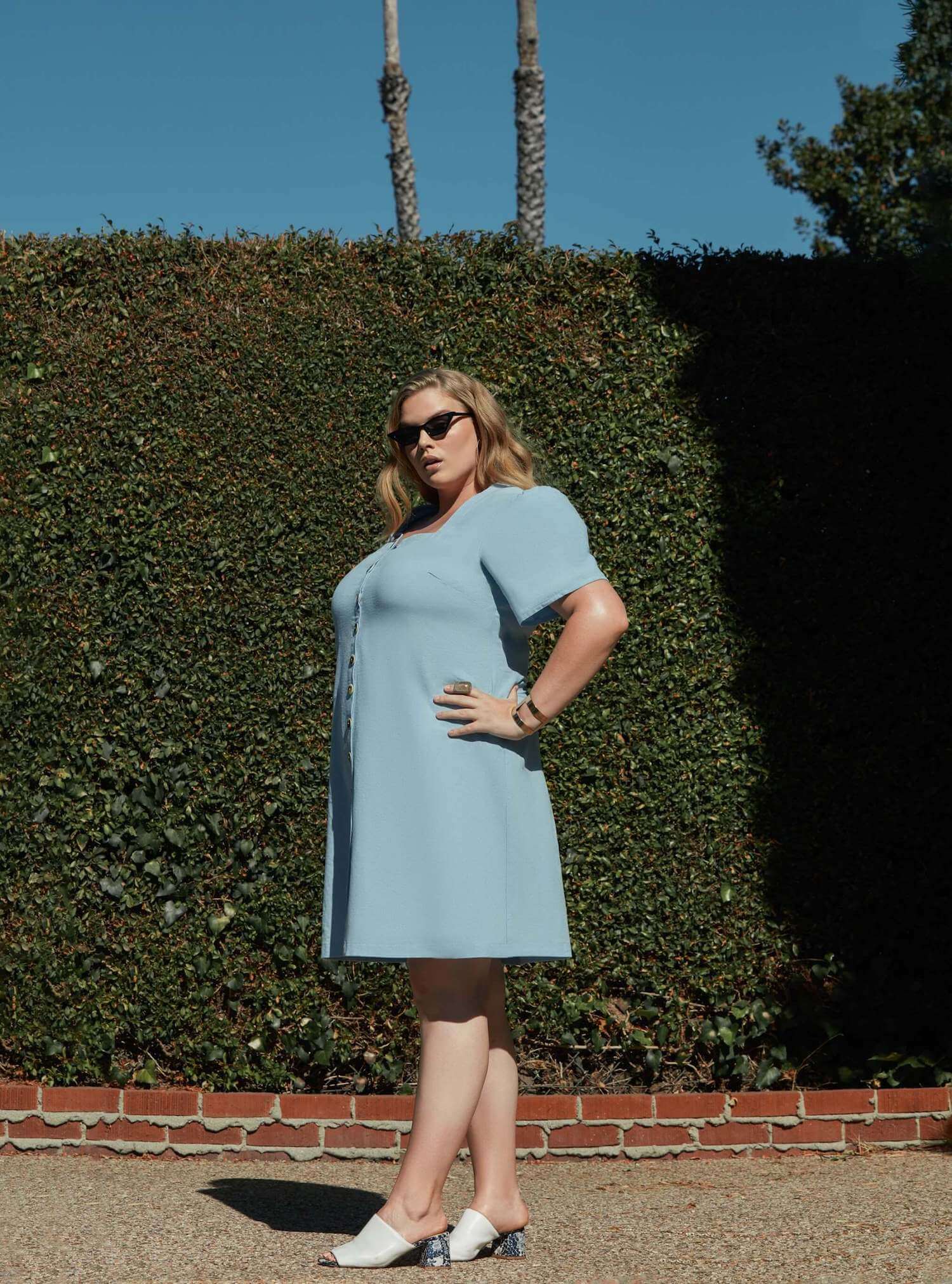 LIVE Q&A WITH LEXA JOY
Written by Absolute Sep, 01, 2020
Hi there! Looks like you might have missed out on the Instagram Q&A session with Lexa Joy, but no worries! We have you covered with a recap of what was discussed!
Lexa is from a super small town and was always surrounded by a lot of nature! She claims that she did not appreciate being surrounded by nature very much when she was younger, but is happy that was what she grew up in. When deciding to further her education an art school in San Francisco is where she chose to spread her wings! Starting her career in film production to transitioning into becoming a full-time model was not something she expected but is thankful for now!
Can you explain your platform?
"I have always wanted to be a part of the change." Lexa talked about how she wanted to be a part of the change in the industry. With inclusivity of all sizes, skin tones and people being taken into consideration in this fast world we call the fashion industry. Lexa spreads positivity and self-love throughout her platform encouraging women to feel confident and comfortable in their own skin.
Tell us about your experience in the modeling industry!
Lexa started talking about the different companies she has worked for (without mentioning names) and mentioned feeling special at some companies and how much she loved working for them. While working for other brands felt that she was just tossed on set, had some pictures taken, and was then tossed back home. ALMOST THERE was placed on the enjoyable experience list! Lexa mentioned how when stepping up to the shoot there was a personal connection with everyone there, and that she thoroughly enjoyed her experience with us.
What did you think about the unboxing experience from ALMOST THERE?
Celine's hand-delivered Lexa's package! Lexa talked about how when she opened the package she noticed that it was all made out of sustainable materials and the best part was the little thank you note that has seeds embedded into it so, when you plant the card you will start to grow little plants! Lexa's ALMOST THERE plants are already sprouting! The whole unboxing experience pairs with the brand very nicely and makes you feel special and a part of the change in the fashion industry towards a more sustainable way of life.
How is the fit and feel of the Bianca Dress? Any characteristics that stand out?
Lexa claims that she is, "Not much of a dress girl in general" She comments on the way that the Bianca dress fits her bust makes her feel completely covered. No buttons pulling and the square neckline gives her good coverage. She also commented on the drop waist and how that is very appealing to her figure and is comfortable as well. Lexa also mentioned the fit in the sleeves and how she doesn't feel like they are too tight or "claustrophobic." Lastly, she mentions the buttons down the front and how she likes that they go all the way down so you can wear it in so many ways! Not only that, but with the sleeves and dress being longer it makes it more comfortable to wear for just about anything!
Where do you enjoy wearing the Bianca dress and why?
Lexa loves wearing her Bianca dress to the beach! The dress is made of hemp fabric and Lexa mentions that it doesn't snatch the sand as a typical cotton sundress will! It's one of her favorite features of the dress; considering she wears the Bianca dress as a Swimsuit cover up as well!
The Bianca dress can also be washed in the washing machine and air-dried! It is suggested to dry-clean, but sometimes life gets the best of us!
What are some of the sustainable materials used in the products sold at ALMOST THERE?
Sustainable all the way from packaging to fabrics, dies, and the trims used! The tags are made of recycled paper with the steps we take to make sure that everything is truly sustainable materials printed on the tag. We make our products with recycled lining, hemp, organic cotton, tortoise buttons from Italy, and even the labels are made out of recycled polyester! We are all about reducing waste, which is why you will not find a traditional care tag in our garments; instead, you will find the care instructions printed on the inside seam of the dress! Every detail in each garment is carefully throughout to ensure a consistent message about sustainable fashion.
What was the design process of tailoring to plus-sized women?
ALMOST THERE went through 5 rounds of fittings to make sure each garment is practically tailored to fit the body type that it is bought for!
Is there a lot of representation in the market for sustainable plus-size clothing?
We asked Lexa about this and she said that ALMOST THERE is only the second brand to reach out to her that has inclusive sizing and is sustainable. Normally she only hears from fast fashion brands, She even talked about the other brand that reached out to her, and how they only went to size 2x where ALMOST THERE extends to size 5x which makes us the most size-inclusive sustainable brand that has reached out to her thus far.
ALMOST THERE MEANS
We are all about acceptance and that everyone feels they are giving back with every purchase while also being a conscientious shopper. Not to mention that we want every woman to feel comfortable and beautiful in what they are wearing.
Additional Comments from Lexa!
How she feels about ALMOST THERE
Every single plus-sized model is different and finding the brands that can support plus-sized and curvy women of all shapes and sizes. All about knowing that what you are wearing has your back!
Feeling comfortable in your body?
I was always big in athletics and sports so, I made sure that my body looked right for performance purposes, and then when I got out of sports it was a whole new world! Finding the clothes and pieces that compliment my body shape to make myself comfortable and feel amazing in how I look taking a minute, but it's all about the mental change of self-love.
ONE TREE PLANTED
With every dress purchase, there is a tree planted.
Lexa Talks about the consumer perspective of One Tree Planted
You know where it comes from, where it is going, and the one tree planted it makes it all make sense and makes you feel like you are making an even bigger difference.
How is the temperature in the Hemp fabric?
Lexa answered, "The Hemp is cool while wearing, and when sweating everything stays cool nor does the sweat bleed through. There is a lot of breathability."
Talk about your experience with ALMOST THERE!
Lexa mentioned that she was introduced to ALMOST THERE in October of 2019. Most shoots she just shows up and doesn't think. She is just expected to come in and model with no input or feeling of being special, but she showed up and everything was so special. The photographers, the images, the people, the clothing, the experience, in general, was super special. Lexa told Celine, "You launched in the middle of a pandemic and that is truly amazing and I love being able to help the message get out as much as I can." When asked how it was working for ALMOST THERE I loved working for them!
Celine mentioned how the campaign shot in her backyard with all hands-on deck. It was shot in October, so it was SUPER hot but so fun. So proud of what was created. People really loved that we have different body types and different ethnicities in one campaign. Coming from a corporate fashion background it is so special and unique when you do things that are more homegrown. ALMOST THERE is a made in America brand; which is rare and so so special. You are supporting a local LA garment industry!
Thought to launch process time
Not very long – it only took about 1 year and normally it takes longer. Really happy that I could jump out of the corporate world and start my own business. Wasn't easy for anyone who is small. Very special when someone is the heart and soul.
Lexa is a Baker!
Lexa is also one heck of a baker and has started her own business. The Model Cookie Co.! @themodelcookieco can ship anywhere in the US and will do delivery anywhere in Los Angeles!
There you have it! Now, you are all caught up. Wait! Go check out @lexjoypeters Instagram profile to find her 10% discount code to purchase! Oh, and while you are there give her a follow! Also follow @shopalmostthere for updates on our next live, sales, and new drops! It's been fun; until next time!